The purity of fuel entering the engine is essential because it affects the wear of engine parts such as injectors, pumps, and fuel-pressure valves. Correct fuel filtration is essential to ensure the reliable operation of the engine.
WHAT DISTINGUISHES WIX FILTERS FUEL FILTERS?
Filtration effectiveness
WIX Filters fuel filters stop not only impurities which enter the car's tank together with the fuel, but also rust particles, metal filings and water (in the case of diesel engines). Thanks to our experience and expertise, we produce fuel filters which meet the standards of leading car manufacturers.
Selecting filter media according to the engine
Different engines have different requirements. In WIX Filters, we use filter media tailored to the requirements of the engine or vehicle manufacturer. Their efficiency and properties are tested in a modern laboratory. We annually carry out in excess of 4000 laboratory tests in Europe alone.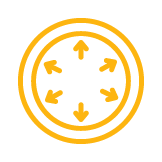 Perfect seal
Not only must a filter be able to accurately filter particles but a strong seal is essential, any leak in fuel poses a threat of fire or worse, this is why all WIX filter seals go through stringent and extensive testing to ensure the integrity of the filter and fuel system is maintained at all times.
The protection of modern injection systems
Injection systems used in diesel engines require extremely efficient filtration and water separation. WIX offers a wide range of fuel filters for vehicles with advanced injection systems. Thanks to solutions such as the multi-stage separation of water, these filters meet the highest technical standards.
The quality of WIX Filters filters results from our competence as a supplier of original equipment.
The high quality of WIX Filters products results from the broad expertise of MANN+HUMMEL – our company and the leading supplier of original filters for the largest car manufacturers in the world. MANN+HUMMEL is the world leader in filtration technology.​
Filters with connectors
The hermetically sealed metal or plastic housing has connectors suitable for fuel lines. They are used in both petrol and diesel engines. Some models designed for diesel engines have a multi-stage filtration system, which increases their efficiency and extends the service life of the filter.
Fuel filter elements
These removable elements are mainly used in diesel engines, installed in a housing integrated with the engine. Today we design filter elements without any metal parts (bottom-caps, cores). This makes their disposal much faster, easier, and cheaper. Such a change has led to the use of plastics resistant to fuel components.
Screw-in filters
These resemble spin-on filters, but they have no internal valves. This solution facilitates the shutting down of the engine before contaminated fuel reaches. A blocked filter works like a fuse, preventing serious engine failures. Only clean fuel is let into the combustion chamber. The likelihood of the accidental introduction of contaminants into the fuel system during the replacement of the screw-in filters is highly unlikey.